Your Adventure Starts here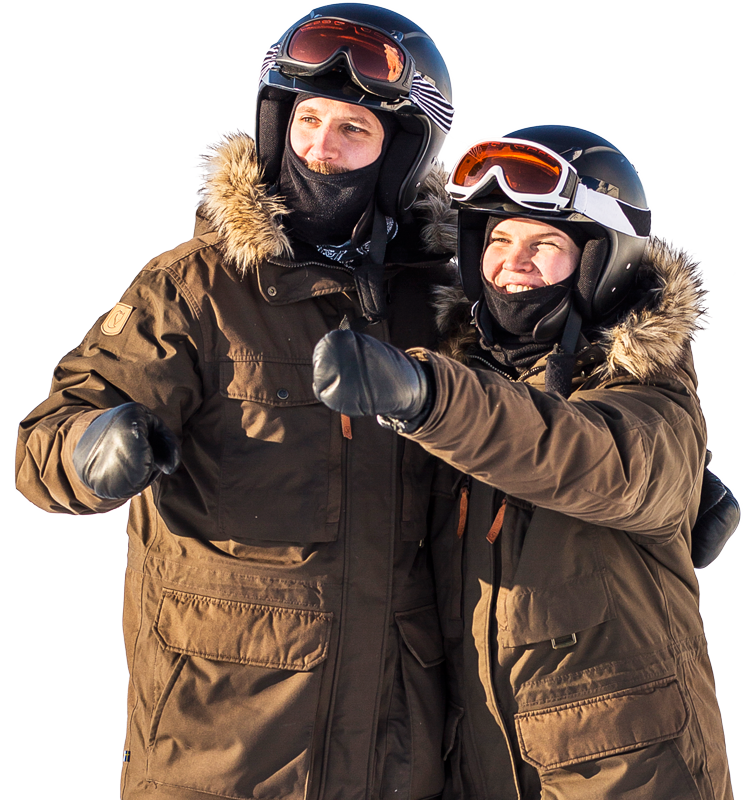 To make the time with us worth a page in your history book, we fully intend on delivering a professional and friendly service that not only ensures your enjoyment but also your comfort and safety.
We at Due North Safaris value feedback and what our guests have to say about us and the service we provide. Whether it be good or bad we take it very seriously and build on it to improve for the future.
WOWWWWW is the best word to describe what we have experienced with this company. Everything is the top, from snowmobile to the clothing, the choice of the track and last but not least the guides. All the one we have meet were very professional and friendly and funny during the tour. Don't miss something cooked by them in a Kota.
Had the best time exploring Lapland with these guys! Very welcoming, relaxed and yet professional atmosphere! All of the staff that we got to meet were super nice! Hope to come back again!
Absolutely outstanding!! Highly professional with such a warm welcome. One not to be missed!!
Is warm clothing included in the safari ?
The thermal clothing is included in all of our safaris. Thermal clothing includes jacket, pants, boots, gloves and a hat. For snowmobile safaris we also include a helmet and a balaclava.
Is it guaranteed to see the Northern Lights ?
Northern Lights are a natural phenomenon which has no schedule, so we can never guarantee that you will see them as with everything in nature. We will however continue the tour as planned regardless of the weather, as it can change very fast here in Lapland.
Do I need a drivers license to drive a snowmobile?
Generally you need to be over 18 years old and have a valid driver's licence to drive a car or a motorcycle. The information contained in a foreign driving licence must be in Latin alphabet and indicate the right to drive or there must be a translation of the information by a reliable party, such as an authorised translator, into Finnish, Swedish, English, German or French. Please NOTE! It is required of you to carry your drivers license with you when driving a snowmobile.
How do I make a booking ?
You can book safaris by contacting us through our contact page. You can also book safaris directly at our office upon your arrival, but we cannot guarantee availability for late bookings.
We suggest making a booking long in advance to ensure availability
Here you can read our terms and conditions.
Will you pick us up for the safari ?
All our safaris include a pick-up at your cabin or hotel as long as it is in the Yllas area. If you require a pick-up from further, then an additional transfer fee will be added to the safari price. It is also possible to meet at our safari house as most cabins and hotels are within walking distance. All the times and meeting info will be included in your booking confirmation.
Do I get my own snowmobile for the safari ?
Our prices are based per person with 2 people sharing one snowmobile unless otherwise stated.
If you wish to drive your own snowmobile on a safari, you can purchase a single drive supplement. This is per person and added to the price of the safari. You can purchase this suplement when booking any snowmobile safari.
what happens if I am late or not there for pick-up ?
The meeting times for our safaris are usually between 15-30 min before the safari starting time. The safari starting time is when the whole group is clothed and ready to go. Although we will do our best to try contact you and find out what is happening, it is  unfortunate that we cannot keep the whole group waiting for guests arriving late or just not showing up.
What should I wear?
Besides the excellent thermal gear we provide for you it helps if you have your own thermal underwear and a good fleece sweater. The colder it is the more layers you should wear. Remember it's always easier to remove layers than not have any to add.
The crew is the heart and soul of Due North Safaris. Coming together from all over the world, we bring a wealth of different experiences and a strong passion for nature and the environment. We are committed to what we do and we do it well.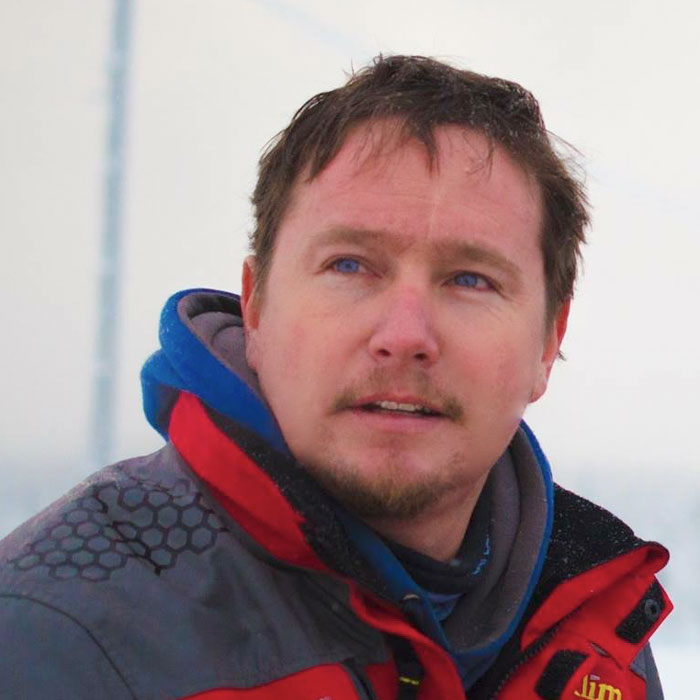 Being born and raised in the bush-lands of Africa, Brian becomes skilled at almost everything you expose him to. If there is no way, he will find a way! Practical, technical or even physical, nothing is too hard to overcome.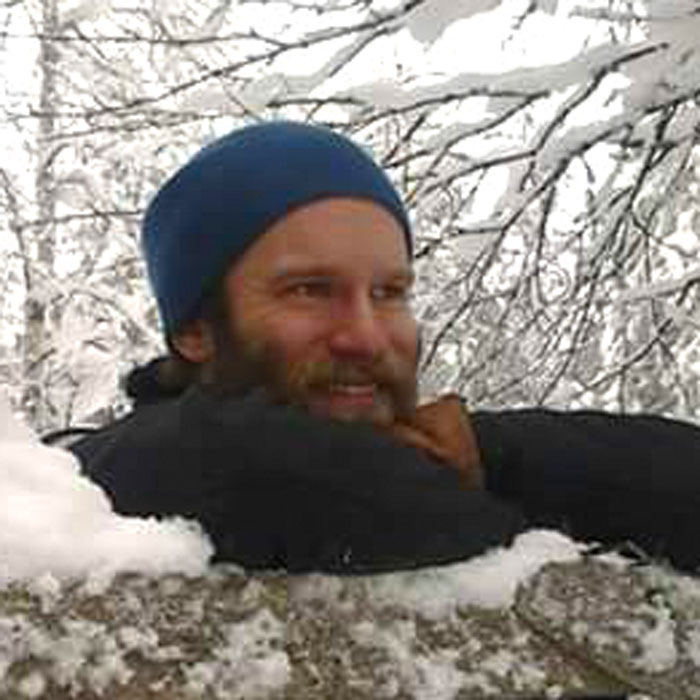 Oscar has spent half his life up and down mountain slopes with either off piste skis or a snowmobile attached to his feet. That said, it's no surprise that he is the go to guy whenever you need a snowmobile fixed.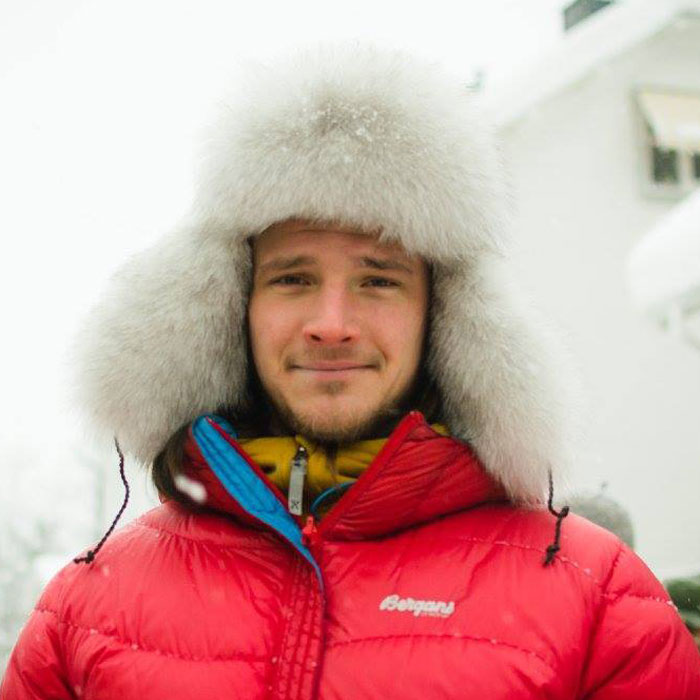 Jonas spends more time in nature with his camera and coffee pot than he does anything else. As an avid bird and nature photographer, he claims he's been heartbroken just once and that was when his favourite lens broke.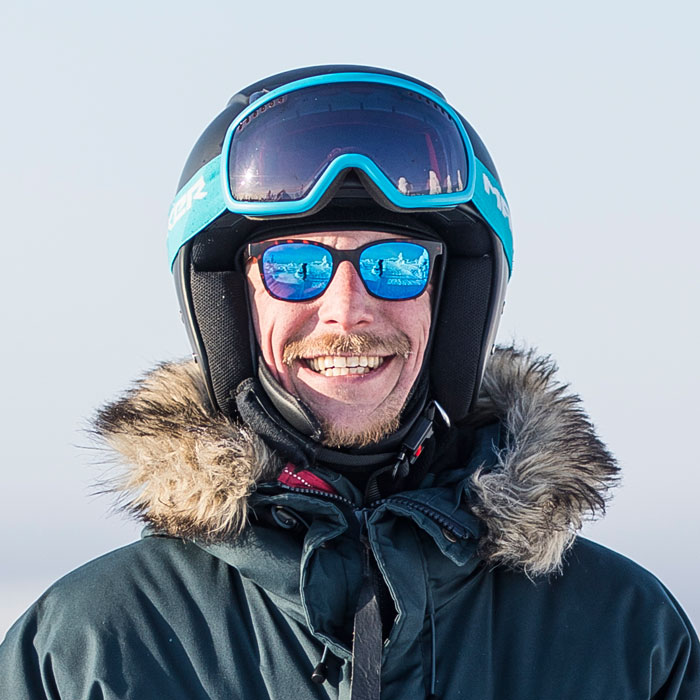 It's hard to beat the enthusiasm and passion in Ville when it comes to the simple joys in life. No matter what the situation, he can make it better. Life is way too short to stress or worry about things you have no control over.